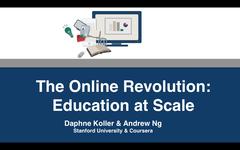 The Online Revolution : Education for Everyone

Daphne Koller
Recorded 03 July 2012 in Lausanne, Vaud, Switzerland
Event: SuRI - I&C - Summer Research Institute
Abstract
Last year, Stanford University offered three online courses, which anyone in the world could enroll in and take for free. Students were expected to submit homeworks, meet deadlines, and were awarded a "Statement of Accomplishment" only if they met our high grading bar. Together, these three courses had enrollments of around 350,000 students, making this one of the largest experiments in online education ever performed. In the past few months, we have transitioned this effort into a new venture, Coursera, a social entrepeneurship company that partners with top universities to provide high-quality content to everyone around the world for free. Coursera currently has around 650K registered students in 42 courses, and around 1.5 million enrollments.
In this talk, I'll report on this new experiment in education, and why we believe this model can provide both an improved classroom experience for our on-campus students, via a flipped classroom model, as well as a meaningful learning experience for the millions of students around the world who would otherwise never have access to education of this quality. I'll describe the pedagogical foundations for this type of teaching, and the key technological ideas that support them, including easy-to-create video chunks, a scalable online Q&A forum where students can get their questions answered quickly, sophisticated autograded homeworks, and a carefully designed peer grading pipeline that supports the at-scale grading of more open-ended homeworks, such as essay questions, derivations, or business plans. Through such technology, we envision millions of people gaining access to the world-leading education that has so far been available only to a tiny few, and using this education to improve their lives, the lives of their families, and the communities they live in.
Watched 15999 times.
Watch