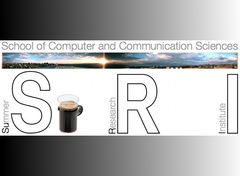 SuRI
I&C - Summer Research Institute
The Summer Research Institute is an annual event that takes place at the School of
Computer and Communication Sciences at EPFL in Lausanne, Switzerland. The mission of
SuRI is to create an informal but rich environment that is a fertile ground for the
development of new ideas and the consolidation of on-going research.
During this period, the activities of the department and its laboratories focus on
an active exchange of research ideas with visiting scholars from renowned international
institutions worldwide. In addition, visitors give one-hour talks on their research,
accessible to a broad audience.